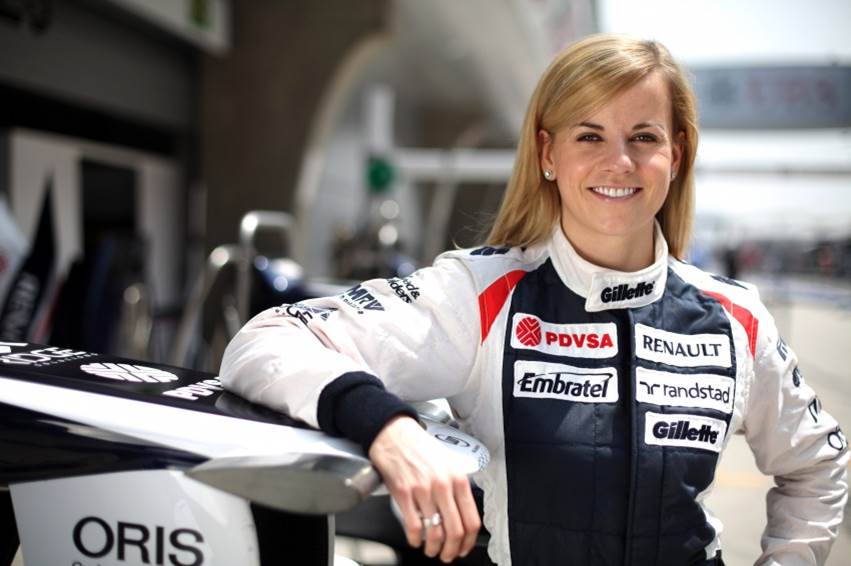 Formula 1 unlike a lot of other motor racing is one of the few sports that allows both male and female drivers to compete against each other. This is, however, mostly theoretical as there are very few females drivers in Formula 1 for example. Since it started there have only been three female drivers who have qualified to race. Considering in this same time frame 822 men have qualified it is obviously a shockingly low figure.
In terms of female involvement off the track, whilst also low, there have been notable appointments in the last few years. Claire Williams (Frank William's daughter) recently moved onto the board of Williams after her father stepped down from his position. Monica Kaltenborn took over the reins at Sauber back in 2012 becoming the first woman in charge of an F1 team.
So what are the reasons for so few female drivers? The lack of interest in driving at a young age compared to boys has been suggested but it would seem that when they do show interest, sponsors are less willing to take them seriously. In some countries around the world religion and culture also play a part in discouraging some females.
The finger has to be pointed once again at F1 however as there are countless other successful women drivers in other motorsport categories. Michelle Mouton was a very talented driver who won a number of races in the World Rally Championship in the 80s. Other notable drivers include Lyn St James who won two races in the Daytona 24 hours race, competed in the Le Mans race and also won the Indy 500 Rookie of the year award. She also broke the closed course record for women achieving a speed of 227.32 mph.
Perhaps things are changing though. Jamie Chadwick, a 21-year-old driver from Bath, who has been driving competitively since the age of 11 became the first woman to win a British F3 race in 2018 at the age of 18. Rapidly winning races and acquiring other titles has seen her gain attention.
Her dream is to race in F1 and last year she was taken on as a development driver at Williams. She won $500,000 last year winning the W series which has been more popular than ever attracting much bigger crowds than previous years. The W series has been very supportive of young women drivers and receives plenty of sponsorship money which is essential for its continued success. Despite Bernie Ecclestone declaring in 2016 that women "would never be taken seriously" as F1 drivers Chadwick and many others believe she can prove him wrong. Having gained F1 super license points via last year's big win that goal of hers moves ever closer. Her success will only push forward the sport and encourage others to breakthrough.